Calli, Belladonna, Mia, Princess, and Honey spectacularly overwhelm a hapless man. Three of the girls sit on his face, walk on his body, and giggle their way through it all. They seem to find it funny that he can't breathe and that they are trampling him severely. They walk all over him, to his discomfort and their pleasure. Speaking of pleasure, rarely do we have the pleasure of seeing five girls in one movie, all ganging up on one man. It's every submissive guy's fantasy: Five on one. So if you can't arrange to enjoy this kind of scene in real life, you owe it to yourself to at least watch this movie!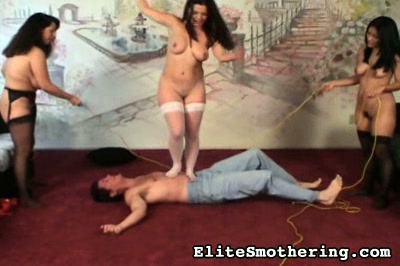 Tall Goddess takes Baldy through it all: Facesitting smothering, ass worship, some taunting and tormenting with tits she will not allow him to touch, and some HOM smothering. Baldy has definitely met his match in Tall Goddess. Baldy worships her butt-cheeks, then lies beneath her ass to se how long he can take having his air cut off. After the scene in which Tall Goddess taunts and teases Baldy with her tits, which she won't let him touch, she offers her ass to smother his face with and does one damn fine job of it. It's after that that she follows up with HOM smothering.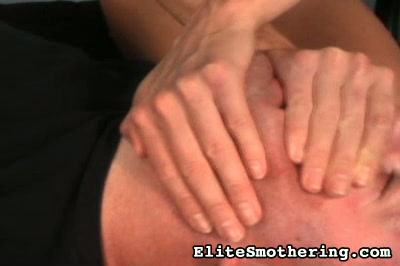 Michele facesits Baldy, smothers his nose in her twat, handcuffs him, tit-smothers him, and rides him some more. She absolutely buries him in her tits, which he has NO objection to at all! Michele rides Baldy's face and smothers his nose in her twat. She smothers the handcuffed Baldy with her tits, then straddles his face and rides that face to glory. This is a great movie for facesitting devotees and smothering devotees, who like to see a man with his face totally submerged in womanflesh. Regardless of whether you are a tit man, an ass man, a twat man, or even a legs man, you'll love the smothering in this one.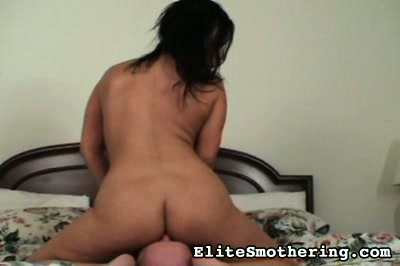 Dominant Sandra does a powerful lot of facesitting, and also gets her ass and twat licked, as well as strapping a dildo to the chin of her slave so that he can fuck her with it. This movie is all about face sitting and cunt licking and ass licking … but then, aren't those some of life's finer pleasures? Sandra smothers her slave with her pussylips before strapping the dildo to his chin. Both of them seem to enjoy themselves, and you will too, when you watch this movie, if you are into these same pleasures as are shown here.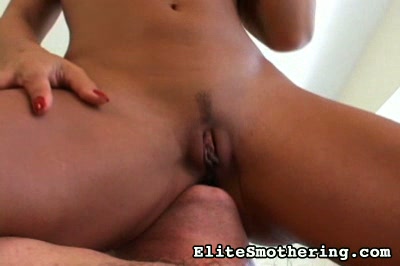 Roxetta can be brutal, but she does reward her slaves with a good fuck. Some nice foot worship scenes are intercut with ass-worship. Then we see Roxetta slapping her slave and whipping him with a crop. Mmmm … nice intermix of BDSM with foot worship and ass worship. And that's still not all of it. Roxetta rides her slave horseback style, totally dominating him. After riding her slave horseback around the room, she demands a bit of ass-worship. And it's after that that she rewards him with a good fuck. Well, we would say that, after all that abuse, he certainly deserves it!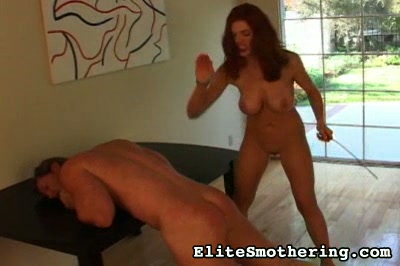 Tall Goddess puts on her makeup while her ass is being serviced by a slave's tongue. Then she sits on his face and simply won't allow him to breathe, no matter how desperate he gets. Tall Goddess takes full advantage of the man — and his tongue — that she has at her disposal. The slave she is facesitting runs out of breath, but she won't get up and let him breathe. She is one demanding girl, that Tall Goddess, and I certainly wouldn't want to get on her wrong side. But we do hear that the slave lived to make more movies!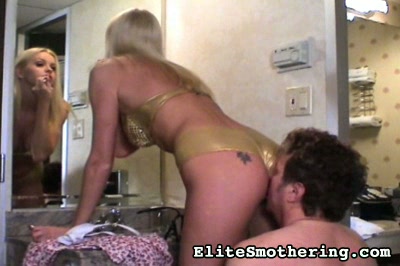 Mistress Deja Vu, a decadent-looking girl, indulges in a little facesitting. Deja Vu is demanding of her slave, whose face she sits on while swatting his hands away from his cock, which he cannot help pulling at. But later, when he's made her come, she benevolently lets him jerk his rod as he licks her some more. While sitting on her slave's face, Deja Vu swings her foot around so her high heels connect with his upright cock. She pulls at his man-tits as he lies helpless beneath her. As he licks her smothering twat, the slave jacks his own cock.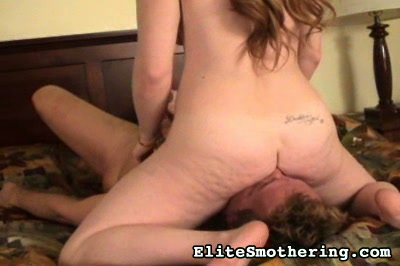 Olivia gleefully sits on her slave's face and squirms under his tongue as he licks her asshole. She berates her slave as she squirms and squeals at the feel of his tongue in her ass. An interesting thing about the making of this movie: There was an intern present, a sort of "gofer," who absolutely refused to run out for coffee during a facesitting scene but steadfastly stood and watched, bug-eyed, as the action unfolded on the set. He did, however, have to leave the set three times during the filming to use the bathroom … and we are sure that the call of nature he was answering was placed by his hard dick, which was noticeably protuberant during the enntire filming. Some powerful movie, huh?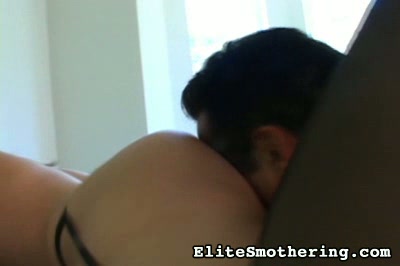 Caroline has an ass and a half — there is just that much more of it to worship, and her latest stud does a good job of doing just that. Now, Caroline wants her ass worshipped and will go to any lengths to get what she wants. In demanding that her stud take proper care of her, she points out, "I have a big ass. There's lots to worship." That does seem like overstating the obvious! But she's kind to her stud. After getting her ass properly worshipped, Caroline jacks the guy's dick. Don't you love movies with happy endings?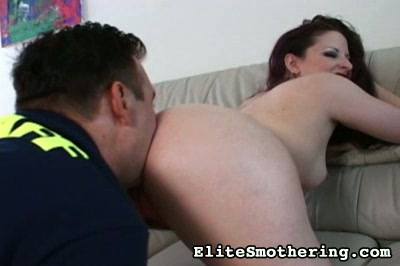 Tall Goddess catches a burglar in her house and deals with him her own way: She handcuffs him, facesits him, and demands that he eat her out. She tells him she'll call the police later, but she wants to have her way with him first. Before she turns the burglar over to the police she's gonna sit on his face and punish him herself, and make him go down on her and eat her out but good! Tall Goddess has a tall order of facesitting to accomplish. And it hardly sounds like punishment to us — it sounds like our idea of a wonderful time!